Call for Speakers and Vendors
CtHIMA is looking for volunteer speakers and vendors for the annual conference scheduled for August 16, 2019 at the Sheraton Hotel in Rocky Hill, CT.
CtHIMA's HIM professionals seek educational content addressing the changing dynamics of health care, practical approaches and solutions, a greater understanding of new systems and applications, and best practices.
CtHIMA's objective is to provide HIM professionals with timely, relevant and innovative presentations that provide information they can use in their daily operations, planning for future programs and services, and in their own professional development.
This year CtHIMA is looking for speakers to present on the following topics:
Patient Engagement
Patient and Family Advocacy
Changes in HIPAA ie., interoperability
Trends in Healthcare Delivery
Population Health and the complexities of healthcare reimbursement
Finally, do you have a great story to share, innovative process that you are proud of? If so, CTHIMA is also looking for a volunteer Keynote presenter to share a motivational, inspirational, or visionary story.
If you are interested in presenting, please complete the online speaker proposal for the desired topic by clicking on the link below:
http://cthima.org/2019-presentation-proposal/
If you are interested in participating as a vendor, please complete the online vendor application form by clicking on the link below.
http://cthima.org/2019-vendor-application/
Proposals due April 30th 2019
---
FEB 6th, SOGI EVENT SLIDES
Queer Access to Healthcare
Cultural Competence – LGBT Health
Gender Identity and Sexual Orientation in Healthcare Delivery and Data Collection
LGBTQ and the Health System
---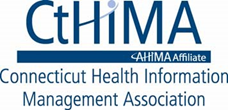 February 1, 2019
Seeking Nominations to the CtHIMA Board
Are you an active member or know of a member in good standing? Do you want to be a part of the future of Health Information Management in Connecticut?
If your answer is yes, now is the time to consider volunteering to serve on the CTHIMA board. We are seeking volunteers for the position of president- elect and for 3 Director(s).
As a board member you will be involved in strategic planning on direction of the association, planning and coordinating educational sessions.
Now's the time to consider volunteering for the CtHIMA board! We are currently seeking volunteers for the position of president-elect and for director(s). As a board member you will be involved in strategic planning and educational sessions for your state association. Do you know someone who you think would be a good candidate? Nominate yourself or a friend today!
As a state component association of the national AHIMA, our CtHIMA board members have the unique opportunity to contribute and participate with the industry's governance, growth and strategic initiatives in collaboration with AHIMA and as importantly – to ensure our members' voices are heard.
Consider becoming a candidate for the CtHIMA board where your education, experience and skills will help drive the direction of our ever-changing landscape of health information management. As a board member you will have an essential role in:
• Participate in monthly Board meetings
• Identify educational opportunities
• Participate in feedback on the HOD (House of Delegates) for AHIMA meetings and strategic direction
• Contribute and help plan educational sessions
• Collaborate with Community, Schools and Connecticut Hospital Association Leadership
Please submit a NOMINATION form TODAY! Nominations close by April 15th
Any questions please contact: Email completed form to or
CtHIMA  Election 2019 Schedule
Nominating Committee
First meeting January 27th  noon via conference call
Review of materials and communications
Nominating process begins February 4
Nomination Process
Nominations to the Nominating Committee
All nominations reviewed by Committee at weekly established meeting time . Final date for nominations April 15
Nominations reviewed against AHIMA and CTHIMA criteria for board position eligibility. Nominee notified , acceptance recorded
Election process
All nominees have bio , other messaging completed and submitted to committee for final review
Ballot prepared for review and approval by board members April 30th and open for voting May 3
Ballot closes midnight May 17.
Newly elected board members
Presented to Cthima Executive Board May 22 for final approval
Elected members notified
General announcement of new CtHIMA board members on website and blast email , as well at AHIMA  June 1.
Installation of new board members
June
---
Education
OTHER EDUCATIONAL SESSIONS
(CTHIMA DOES NOT CONFER ENDORSEMENT OF ANY ORGANIZATION OR PROGRAM BY VIRTUE OF THIS LISTING.)
Ongoing Earn CEUs from BC Advantage
* Note: Portable Document Format [PDF] files are in Adobe Acrobat format, and you must have the Acrobat Reader to open them. To get a free copy of the Acrobat Reader, click the image below.