Letter from the President
November 5, 2019
Greetings CtHIMA Members and Happy Election Day!
The below quote from the highly inspirational American poet Max Ehrmann comes to mind often as AHIMA moves aggressively forward with its plans to transform HIM. We, as professionals working in HIM, really need to keep this thought in mind now more than ever:
Keep interested in your own career, however humble;
it is a real possession in the changing fortunes of time.
With that said, our members tend to complain of late about no longer being given the time off by their employers to attend education sessions, of having to pay out of pocket for educational events, not wanting to give up a Saturday; but keep in mind this is your career, your profession and no one else's and so you owe it to yourself to be as vested and qualified in that profession to the fullest extent possible. This comes from expanding your knowledge base on a regular basis to stay current in the field by attending education sessions, including those outside of your specialties and comfort zones – that extra stretch! If you aren't vested, who will be?
CtHIMA hosted a well-attended and highly informative session on outpatient coding this past Saturday, an idyllic autumn day, at Middlesex Community College. The event covered the 2020 CPT changes, OPPS updates and E/M coding and auditing with hands-on case studies. Much thanks to Rachael D'Andrea, a past president of CtHIMA, who graciously gave up this gorgeous Saturday to present! Much appreciation also to Board members Wendy Fisher and Marty Cohen who helped register attendees. Special thanks to Jill Flanigan, former Board member, for organizing the venue and technical arrangements – not an easy feat! Thank you to the college in general for having us! Thank you to Tara Katynski, our administrator, for arranging for the food and organizing the paperwork! And a special thanks as well to all of you who gave up a part of your weekend to attend this highly worthwhile event – showing a vested interest in your careers! We even had a physician, who specializes in gerontology, in attendance! She is looking to improve her and other physicians' documentation for more appropriate and effective coding and billing! This is the exact type of thing CtHIMA strives to achieve – reaching not only our membership but also those professionals outside of HIM that could benefit from the knowledge we hold and in turn further enhance and improve the work we strive to do! Thank you also to Kristen Piccirillo, a Director on the Board who attended the event and provided this photo –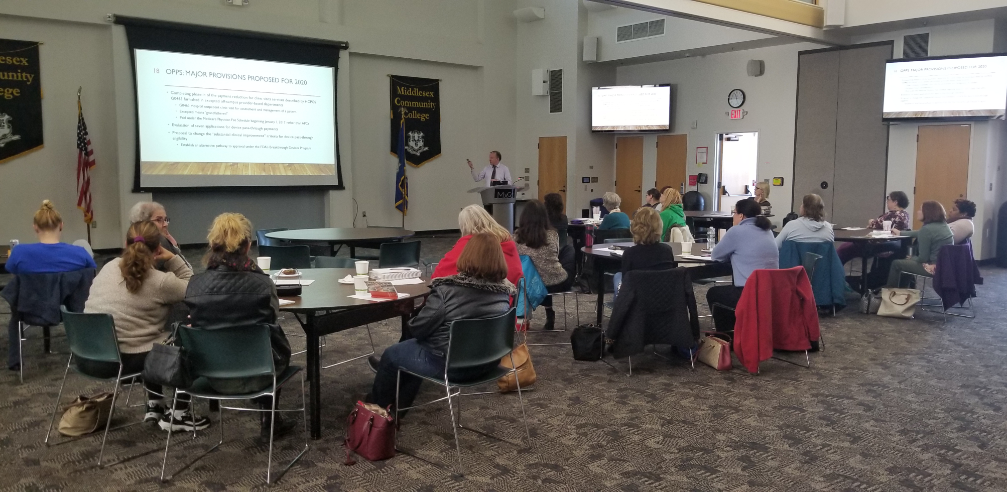 On Monday, October 28, 2019, the HIM Advisory Board for Middlesex Community College held an important planning meeting followed by an appreciation dinner. Several CtHIMA Board members are on the Advisory Board which has recently expanded to include several out-of-state members. This should prove helpful in proliferating new ideas not only at the college but hopefully for CtHIMA. One of the more significant items, a real bright spot, to come from the meeting will be the offering of the ICD-10-PCS course independently to those outside the program – meaning even those not enrolled in an HIM program at the college can register for and attend the course. This should prove fantastic for coders looking to make the transition from outpatient to inpatient coding and a huge help to facilities to alleviate at least some of the on-the-job training required for such a transition. Here is the newest brochure for the HIM programs at Middlesex Community College –
Mark your calendars! Coming up on Friday, December 6th at the Best Western Plus Hotel in North Haven will be an exciting all-day session on the opioid crisis with speakers from CMS, CHA, the manufacturers of Narcan, a New Haven police officer, the Judicial Department, the Department of Corrections and more! So, stay tuned for the final agenda and to register! What could be more current and timelier! You really don't want to miss this one!
Thank you as always and remember to vote!
Jim Donaher
President CtHIMA
---
Education
OTHER EDUCATIONAL SESSIONS
(CTHIMA DOES NOT CONFER ENDORSEMENT OF ANY ORGANIZATION OR PROGRAM BY VIRTUE OF THIS LISTING.)
Ongoing Earn CEUs from BC Advantage
* Note: Portable Document Format [PDF] files are in Adobe Acrobat format, and you must have the Acrobat Reader to open them. To get a free copy of the Acrobat Reader, click the image below.