CTHIMA NOMINATION RESULTS 2018-2019
CtHIMA Nominating Committee 2018 Announces 2018/2019 CtHIMA President/Chair, New Board Members
June 18, 2018 — The Connecticut Health Information Management Association (CtHIMA) members elected James Donaher, RHIA, CDIP, CCS, CCS-P as President/Chair of the 2018 Board of Directors. He has served as President/Chair Elect for 2017/2018. His one-year term as President/Chair begins July 1st, 2018.
In addition to Jim's appointment, with this current election 2018, members selected the President/Chair-elect (one-year term) and two members of the board of directors (who each will serve a two-year term):
Martin Cohen, RHIT, President/Chair Elect
Phyllis Hilt, MBA, RHIA, Director
Nora McRoberts, RHIA, Director
The CtHIMA Board is composed of 8 elected members—including the President/Chair, President/Chair-elect, Past President and five Directors at large; the CEO serves ex officio. The newly elected members join the following current CtHIMA Board Directors:
Karen Lawler, RHIA, CHPS, FABC, Past President
Sabrena Gregrich, MBA, RHIA, Director
Roshan Shetty, MD, CDIP, CCS, Director
Jill Flanigan, RHIT, MLS, MS, Director
Respectfully submitted by the CtHIMA Nominating Committee 2018:
Rachael D'Andrea, MS, RHIA, Chair
Emily Macko, RHIA, Committee Member
Elizabeth Taylor, MS, RHIA, Committee Member
---
INFORMATION GOVERNANCE-JUNE 15, 2018 CTHIMA MEETING
---
CtHIMA Annual Conference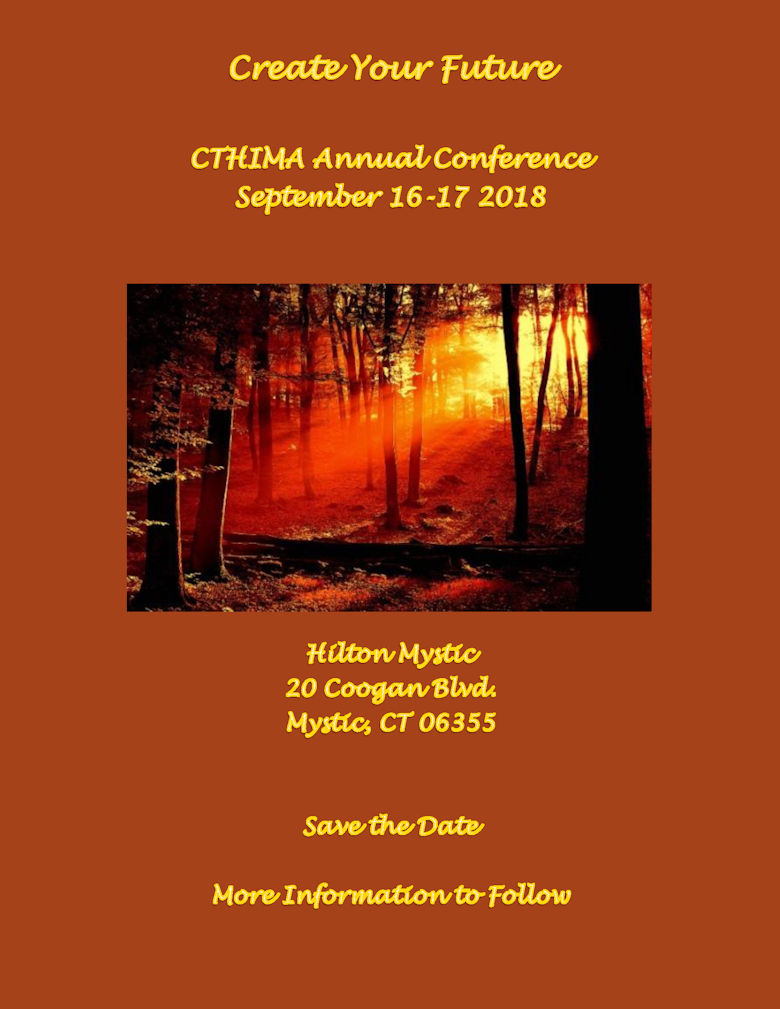 Message from the President
Dear members, and friends,
Please save the date September 16-17, 2018 for CTHIMA's annual meeting which will be held at the Hilton Mystic.
Registration and hotel reservation information will be posted soon.
To give a high level preview the following vendors and learning institutions will be at the meeting:
Chartwise
Middlesex Community College
MModal
Saince
MRS
Libman Education
Charter Oak
Vantage Point Healthcare
Baker Newman Noyes
3M
MRO
Lincoln College of New England
KIWI-TEK
And we have an exciting line up of education planned as well as networking and door prizes:
Patient Engagement
Making the case for HIM professionals in home health, hospice, and long-term care
Nontraditional him job trends
ICD 10 coding updates and IPPS changes
NLP and documentation improvement
Recognizing opportunities for HIT innovation and managing risks
Medicare updates
Latest privacy updates impacting HIM
Actions by the Governor and General Assembly
Cybersecurity
Take Control of your HIM Career
Outpatient CDI
I hope to see you all there!
Best
Karen
---
Education
OTHER EDUCATIONAL SESSIONS
(CTHIMA DOES NOT CONFER ENDORSEMENT OF ANY ORGANIZATION OR PROGRAM BY VIRTUE OF THIS LISTING.)
Ongoing Earn CEUs from BC Advantage
* Note: Portable Document Format [PDF] files are in Adobe Acrobat format, and you must have the Acrobat Reader to open them. To get a free copy of the Acrobat Reader, click the image below.