CTHIMA WEBINAR 
THURSDAY 10/14/2021
9:00 A.M. – 1:00 P.M. 
Please join CtHIMA for a ICD-10CM/PCS updates webinar which will be about 4hrs in length. Our speaker is Lynn Kuehn who is a nationally recognized speaker for AHIMA and other CSA's. This four-hour program will cover both the ICD-10-CM and ICD-10-PCS Updates for FY2022 with about 2 hours dedicated to each code set. The program includes a discussion of the new codes, index entry changes, excludes note updates and guideline changes for ICD-10-CM. For ICD-10-PCS, we'll discuss the new codes and watch animated video presentations of the procedures. We'll look at the guideline changes and the updates to the Body Part Key, Device Key and the Substance Key. For both code sets, there is additional resource provided.

Lynn Kuehn, MS, RHIA, CCS-P, FAHIMA is a health care consultant with over thirty-five years of experience in areas including coding, reimbursement systems and data quality reviews. She specializes in ICD-10-PCS.Ms. Kuehn has authored several books for AHIMA, including ICD-10-PCS: An Applied Approach 2021. She was also the developer of the popular seminar series "Advanced ICD-10-PCS Skills Workshop" and has authored multiple online coding courses for Libman Education. She is a Registered Health Information Administrator, a Certified Coding Specialist for Physicians and a Fellow of AHIMA.

WE WILL BE OFFERING 4 CEU'S FOR THIS WEBINAR WHICH WILL BE EMAILED TO EACH ATTENDEE. THE COST IS $75.00. PAYMENT AND REGISTRATION CAN BE COMPLETED BELOW BY CLICKING REGISTER NOW. ONCE THAT IS DONE THE LINK TO LOG ON FOR THE WEBINAR AND COMPLETE REGISTRATION WILL BE SENT TO YOU. IF YOU HAVE ANY QUESTIONS PLEASE CONTACT TARA AT

Register Now!
---
Welcome New Board Members!
Please join us as we welcome Anna and Moses as first year directors to the CtHIMA board. Collectively, their varied experience and expertise will be an asset to the CtHIMA board and the members we serve.
Welcome aboard Anna and Moses!!
Moses Adgers, BA

Moses holds a BA degree and is currently pursuing his Master's degree. He has been involved in the health information/informatics field for 10 plus years as a Health Programs Admission Counselor at Charter Oak College. Prior to his tenure at Charter Oak College, Moses held similar roles including as a multicultural recruitment and admission counselor in other higher education systems for 15 plus years. Moses has also been actively involved in other committees and volunteer work as housing coordinator, conference coordinator, and holds special recognition as Pi Gamma Mu Social Science Honors Fraternity and Omicron Delta Kappa Fraternity.
Anna Chick, RHIT

Anna holds the AHIMA credential of the RHIT. She comes to the board with 30 plus years of experience in the health information/informatics field. She has held various career roles that range from work as an EKG technician, progressing to medical records coder/DRG tech, processing state birth registry certificates to roles in management as a medical record supervisor and coding supervisor. Outside of her formal career experience Anna has been an avid and active volunteer in her community. She has volunteer experience as a CCD instructor assistant including working at the local PTA sporting activities, and hosting cub scout and girl scout events and activities. All the while Anna continued her work and progression in the HIM field in one capacity or another.
---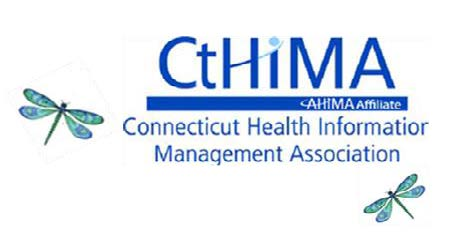 CtHIMA Board of Directors News
This past year as we all worked through the unprecedented challenges of the pandemic both personally and professionally, the CtHIMA Board also faced challenges as did many of our fellow CSAs. In the face of it, the board worked diligently to continue to provide quality educational opportunities virtually or on occasion, face to face aligned with social distancing (when allowed).

We are proud to say due to the generosity of our business partners and vendors we were able to achieve a great deal of educational opportunities virtually, even as the pandemic continued to be an ever-present topic of discussion and concern. As a country, we are beginning to see progress as we embark on the "new normal" a little at a time.

With that said, the CtHIMA would like to take this opportunity to thank the members of our Board of Directors who continued to be present and work together to serve our CSA members even as their term technically, had ended.

Our heartfelt thanks and gratitude to each and every one of them for their continued service above and beyond their initial term. Most notably our 2nd year directors (for whom this was their third year!), Sabrena Gregrich, MBA, RHIA and Nora McRoberts, RHIA.

As the 2021-2022 year is upon us, we would like to welcome two new directors to the board, Moses Terrell Adgers and Anna Chick. Both Moses and Anna come to the board with a long history of experience in the field of health information management, business and education. Their various fields of expertise will be a benefit to the board and our members as we begin to put together the strategic plan for the coming year.

Though it has been a challenging year for everyone, we are excited about the prospect of embarking on new opportunities for education and networking in the season to come. Please be sure to reach out to us if you would like to volunteer or suggest educational topics of interest.
2021-2022 CtHIMA BOARD
Executive Board
Martin Cohen, RHIT President

James Donaher, RHIA, Past-president

President-elect – vacant
2nd Year Directors
Wendy Fisher, MS, RHIA

Kristen Piccirillo, RHIA, CCS

Danielle Wilcox, RHIA
1st Year Directors
Moses Adgers, BA

Ann Chick, RHIT
Office Coordinator
Tara Katynski
---
Education
OTHER EDUCATIONAL SESSIONS
(CTHIMA DOES NOT CONFER ENDORSEMENT OF ANY ORGANIZATION OR PROGRAM BY VIRTUE OF THIS LISTING.)
Ongoing Earn CEUs from BC Advantage
* Note: Portable Document Format [PDF] files are in Adobe Acrobat format, and you must have the Acrobat Reader to open them. To get a free copy of the Acrobat Reader, click the image below.