CtHIMA webinar presented by nThrive
We will be hosting a Webinar on 1/14/20 at 12:00 p.m. presented by nThrive. The cost will be $15.00 and you must register and pay in order to get the additional link to complete your registration. We will also be offering 1 CEU for this webinar which will be emailed after the webinar is complete.
---
Thank you to all of our CtHIMA members who took the Verisma pledge to protect truth and accuracy. They are giving $5,000 to the AHIMA Foundation, and we're proud to have played a part in that donation. Thanks for helping us ensure a brighter future for the HIM industry. #CTHIMA #HealthInformationManagement #Verisma
---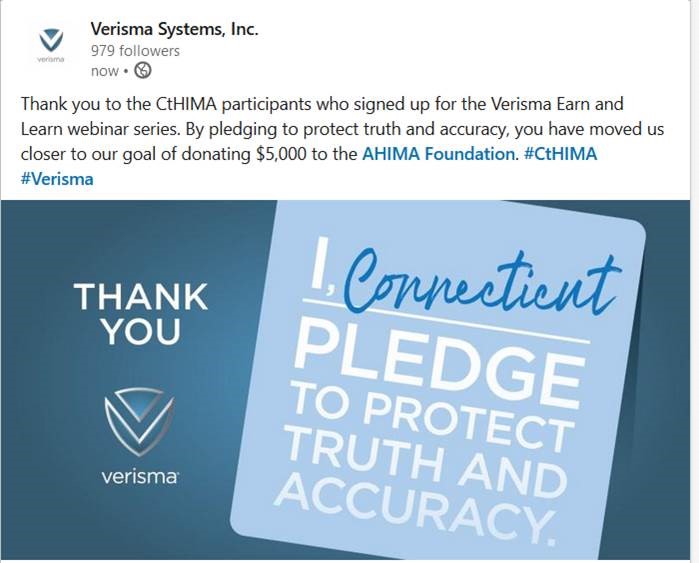 ---

Letter from the President
September 28, 2020
Greetings CtHIMA Members!
As summer closes, there is not much to report from CtHIMA, as things remain dormant during the pandemic! CtHIMA will host a webinar on Friday, October 9th titled "ICD-10 CM/PCS Updates with Q & A" highlighting the ICD-10 updates for FY 2021 and running approximately three hours. Then on Friday, October 23rd we will be hosting our first live, face-to-face session since the start of the pandemic. Although not yet officially titled, speaker topics will include "Achieving Population Health Through Value-Guided Care in the COVID Environment" and "Artificial Intelligence and Computed Assisted Physician Documentation" An Overview of the Technology and Proposed Benefits." Please stay tuned for future announcements with details and updates. Pre-registration and pre-payment will be required for the live, face-to-face session on the 29th since both CtHIMA and the hotel will need to make all the necessary accommodations for COVID-19.
Several members on the CtHIMA Board will be attending the virtual House of Delegates meeting on Saturday, October 17th from noon to 6:00 p.m. With so much currently happening at AHIMA, I am sure we will have much to report back to you in October!
At this month's Coordination and Maintenance Committee meeting it was announced that additional changes to the code sets will be coming in January to better accommodate and facilitate the coding and tracking of COVID-19 and still more changes again in April! Looks as though we are again facing an incredibly hectic and challenging year ahead!
With that said, and knowing too how uncertain things are right now, the CtHIMA Board urges any who might be interested or know of anyone who might be interested in running as a candidate in our CtHIMA election for one of our two open first-year Director seats or for President-elect to please contact CtHIMA immediately! Everyone in the profession is now stretched to the limit, but if more of us step up to the plate and pitch in, the burden can be lightened for all!
Thank you and as always, stay well and be safe!
Jim Donaher
President CtHIMA
---
Education
OTHER EDUCATIONAL SESSIONS
(CTHIMA DOES NOT CONFER ENDORSEMENT OF ANY ORGANIZATION OR PROGRAM BY VIRTUE OF THIS LISTING.)
Ongoing Earn CEUs from BC Advantage
* Note: Portable Document Format [PDF] files are in Adobe Acrobat format, and you must have the Acrobat Reader to open them. To get a free copy of the Acrobat Reader, click the image below.