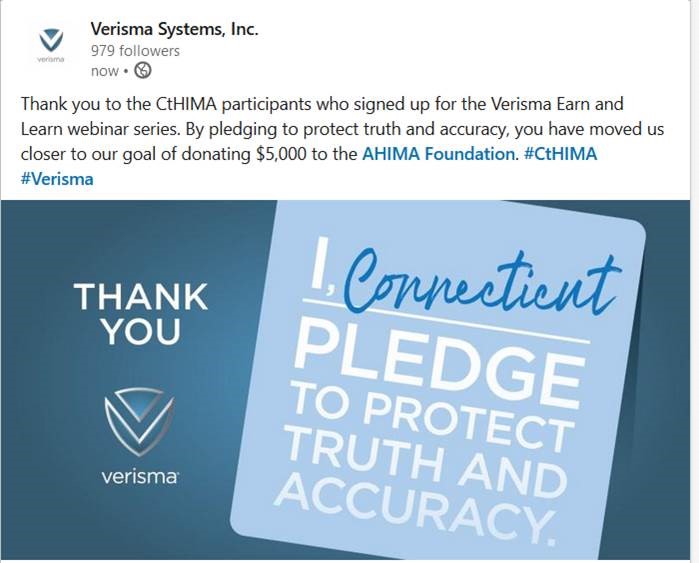 ---

Letter from the President
August 17, 2020
Greetings CtHIMA Members!
Apologies for being so long in sending my monthly letter! Just such challenging times with so much constantly in the air and forever pending! I am certain all of you too feel the same stress and are highly pressed at work! One thing is definite, and I am certain by now most of you have already heard, Annual is cancelled for 2020. The plan for now, COVID permitting, is to instead offer four half-day sessions at the hotel beginning in October. Two will have a Coding/CDI focus and the other two will be more general HIM sessions.
I have seen where many of our members have been taking advantage of our online learning sessions. This seems to have worked out wonderfully and offers an easy way for our members to at least earn their CEUs in these difficult times as we wait patiently and look forward to all meeting again live and face-to-face!
Also, we very much need nominations for this year's coming election. So if you or anyone you might know would be interested in serving on the CtHIMA Board please come forward. We have two first-year Director seats to fill and the President-elect.
And as a further reminder, be sure to check out the Connecticut site on Engage for more impromptu announcements such as any new COVID codes and the such!
Thank you, stay well and be safe!
Jim Donaher
President CtHIMA
---
Education
OTHER EDUCATIONAL SESSIONS
(CTHIMA DOES NOT CONFER ENDORSEMENT OF ANY ORGANIZATION OR PROGRAM BY VIRTUE OF THIS LISTING.)
Ongoing Earn CEUs from BC Advantage
* Note: Portable Document Format [PDF] files are in Adobe Acrobat format, and you must have the Acrobat Reader to open them. To get a free copy of the Acrobat Reader, click the image below.