CtHIMA 2019 Annual Meeting
Beyond HIM Transformation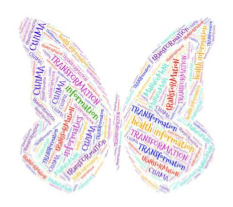 CtHIMA Members and Non-Members
Please Join Us for Our CtHIMA Annual Meeting
Friday August 16, 2019
SHERATON HARTFORD SOUTH HOTEL
100 Capital Blvd, Rocky Hill, CT 06067
Please click here for full details
---
July 2019 Newsletter
Please visit the Publications page to download the July 2019 Newsletter.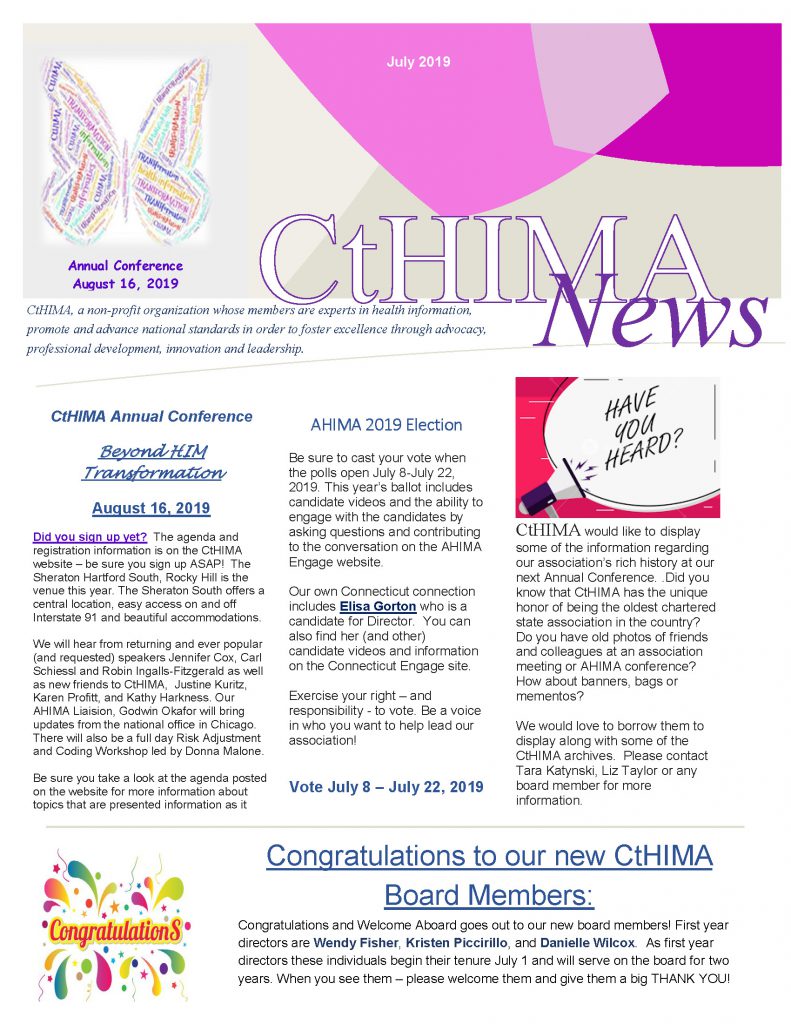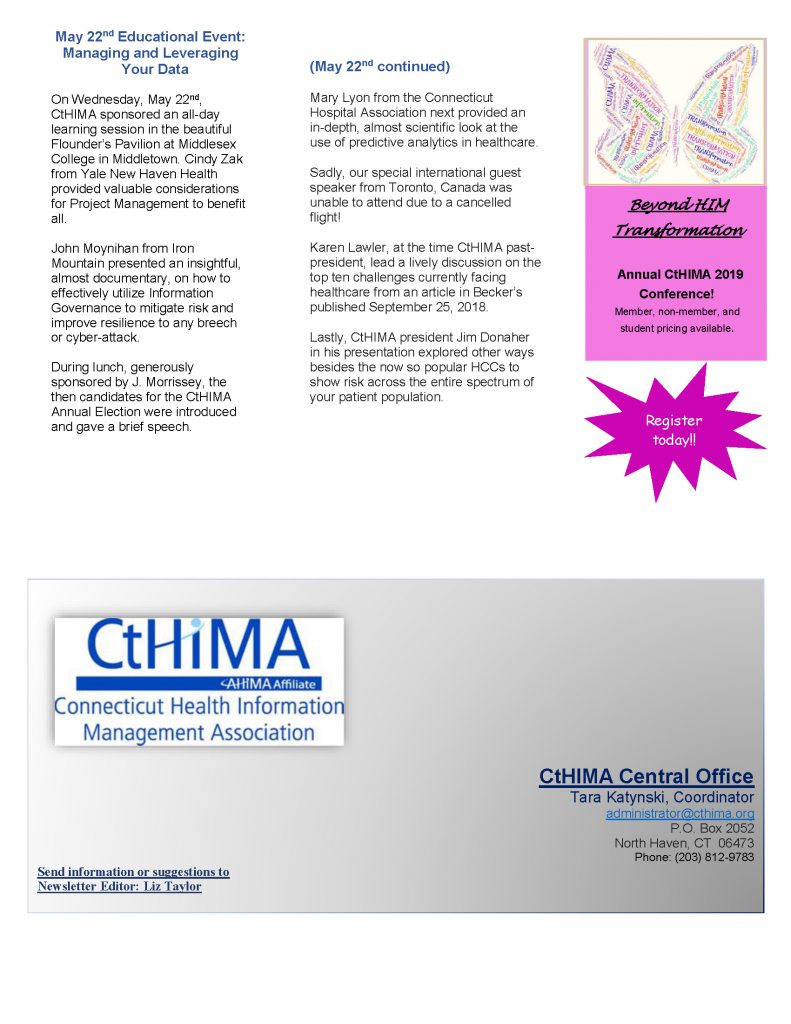 ---
Letter from the President
July 2, 2019
Greetings CtHIMA Members!
After wrapping up our own CtHIMA 2019 Annual Election, it's time now for the AHIMA 2019 Annual Election! The ballot opens July 8th at 8 a.m. CDT and closes July 22nd at 5 p.m. CDT. Listed below are this year's candidates including our own Elisa Gorton for Director! So please, please vote!
President/Chair-Elect (1 open position)

Katherine G. Lusk, MHSM, RHIA, FAHIMA (TX)
Write-in candidate (Any active member with an AHIMA-approved certification.)

Directors (3 open positions)

Brenda K. Beckham, RHIA (KY)
Theresa A. Eichelmann, MBA, RHIA (MO)
Elisa R. Gorton, MAHSM, RHIA, CHPS, CHC (CT)
Julie R. Hatesohl, MBA, RHIA, CPHQ, FHFMA, FAHIMA (KS)
Marcia F. Matthias, MJ, RHIA, CHPC (IL)
Jami R. Woebkenberg, MHIM, RHIA, CPHI, FAHIMA (IL)

CCHIIM Commissioners (1 open position)

Misty C. Neal, MBA, RHIA (GA)
Lynette M. Williamson, EdD, MBA, RHIA, CCS, CPC, FAHIMA (PA)

CEE Council Member (3 open positions)

Jeanne M. (Donnelly) Freeman, PhD, RHIA (MO)
Pamela S. Greenstone, MEd, RHIA (OH)
Debra L. Hamada, MA, RHIA (CA)
Christina Manley, MAEd, RHIT (OH)
Dasantila Sherifi, PhD, MBA, RHIA (PA)
Lynn I. Ward, EdD, MS-HA, RHIA, CPHIMS, CPC, COI (ME)
To cast an informed ballot, the candidates' bios and brief videos can be viewed at the below two links:
Quick reminder — submit any memorabilia that you might have for the display table the Board has planned for this year's Annual. And please do register for the Annual a.s.a.p. so that plans can be made! Along that theme remember too to stay engaged with all of the transformation taking place with AHIMA by frequenting the AHIMA webpage and subscribing to their online alerts and newsletters!
Thank you and cheers,
Jim Donaher
President CtHIMA
---
Education
OTHER EDUCATIONAL SESSIONS
(CTHIMA DOES NOT CONFER ENDORSEMENT OF ANY ORGANIZATION OR PROGRAM BY VIRTUE OF THIS LISTING.)
Ongoing Earn CEUs from BC Advantage
* Note: Portable Document Format [PDF] files are in Adobe Acrobat format, and you must have the Acrobat Reader to open them. To get a free copy of the Acrobat Reader, click the image below.