CtHIMA President's Letter
11/1/2021
Hello all CtHIMA Members,
I can't believe that it is November already, and the holidays are almost on us. Where did this year go, although I am glad it is almost done and that we are really tuning the corner on COVID. Hope you are all doing well and staying healthy. I wanted to update you on what the board has been doing and what we are planning for the year.
First I we had a successful webinar on 10/14 with Lynn Kuehn. It was the ICD-10CM/PCS. I would like to thank Middlesex Hospital for having 10 coders attend the 4hr webinar. We had great feedback on both the speaker and the content of the webinar. Because of this we decided to bring Lynn back for another 1-hour webinar on 12/9 from noon to 1pm it will be "Spinal Procedure Coding in ICD-10- PCS" This willhave a cost of $35 and should be another great presentation from Lynn.
The Board has also voted to hold a one-day Annual Meeting next August. This was due to the poor turnout from this year's Annual. The location and date have yet to be determined, but we are looking to go back to Mystic, although that is not written in stone. If anyone knows of speakers or vendors that would like to participate, please let Tara know. We are also looking for Venues to hold meetings as well.
Other things we are working on is a Behavioral Health Meeting in March or April, more to come on that. We are also going to be doing a Newsletter as often as possible, so if anyone has something they would like to put in the newsletter, a story of interest, something happening at their facility, anything at all please send it to Tara. We are also looking do do something with Student engagement which Moses Adgers our 1st year director is working on. As far as us working with other states for a multi state meeting , that will not happen this coming year, as that has already been planned for by the other states and we will look at this again next year to see if it if feasible for CtHIMA.
So as you can see The Board has been busy and we will continue to do our best to provide you will quality educational programs as well as working for our members. If you have any questions, please email Tara or myself at ""and we will do our best to answer your questions. I encourage all our members to take advantage of all the educational services we are providing so that we can continue to bring them to you. Thank you, and have a great Holiday Season.
Martin Cohen, RHIT
President, CtHIMA
---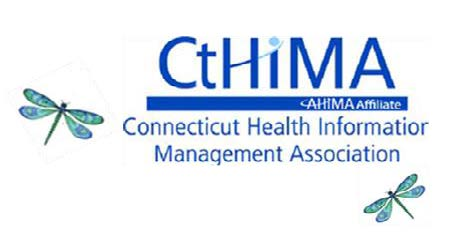 CtHIMA Board of Directors News
This past year as we all worked through the unprecedented challenges of the pandemic both personally and professionally, the CtHIMA Board also faced challenges as did many of our fellow CSAs. In the face of it, the board worked diligently to continue to provide quality educational opportunities virtually or on occasion, face to face aligned with social distancing (when allowed).

We are proud to say due to the generosity of our business partners and vendors we were able to achieve a great deal of educational opportunities virtually, even as the pandemic continued to be an ever-present topic of discussion and concern. As a country, we are beginning to see progress as we embark on the "new normal" a little at a time.

With that said, the CtHIMA would like to take this opportunity to thank the members of our Board of Directors who continued to be present and work together to serve our CSA members even as their term technically, had ended.

Our heartfelt thanks and gratitude to each and every one of them for their continued service above and beyond their initial term. Most notably our 2nd year directors (for whom this was their third year!), Sabrena Gregrich, MBA, RHIA and Nora McRoberts, RHIA.

As the 2021-2022 year is upon us, we would like to welcome two new directors to the board, Moses Terrell Adgers and Anna Chick. Both Moses and Anna come to the board with a long history of experience in the field of health information management, business and education. Their various fields of expertise will be a benefit to the board and our members as we begin to put together the strategic plan for the coming year.

Though it has been a challenging year for everyone, we are excited about the prospect of embarking on new opportunities for education and networking in the season to come. Please be sure to reach out to us if you would like to volunteer or suggest educational topics of interest.
2021-2022 CtHIMA BOARD
Executive Board
Martin Cohen, RHIT President

James Donaher, RHIA, Past-president

President-elect – vacant
2nd Year Directors
Wendy Fisher, MS, RHIA

Kristen Piccirillo, RHIA, CCS

Danielle Wilcox, RHIA
1st Year Directors
Moses Adgers, BA

Ann Chick, RHIT
Office Coordinator
Tara Katynski
---
Education
OTHER EDUCATIONAL SESSIONS
(CTHIMA DOES NOT CONFER ENDORSEMENT OF ANY ORGANIZATION OR PROGRAM BY VIRTUE OF THIS LISTING.)
Ongoing Earn CEUs from BC Advantage
* Note: Portable Document Format [PDF] files are in Adobe Acrobat format, and you must have the Acrobat Reader to open them. To get a free copy of the Acrobat Reader, click the image below.