CtHIMA Coding Roundtable Agenda for May 22, 2018
Middlesex College
Tuesday, May 22, 2018
Agenda
9:00 – 9:30                       Registration & Networking
9:30 – 10:30                    Sepsis Denials
Sepsis Criteria & Clinical Validation
Coding & Documentation
Presented by James Donaher, RHIA, CDIP, CCS, CCS-P
10:30 – 12:00                  Sepsis: The Clinical Picture
Signs & Symptoms
Pathophysiology
Treatment
Presented by Megan Mooney, MSN, RN
                                                        Director of Nursing Learning Center
                                                        University of St. Joseph
12:00 – 12:30                  Lunch & Networking
12:30 –  2:00                    Understanding the Surgical-Related Sections of ICD-10-PCS
Obstetrics
Placement
Administration
Measuring and Monitoring
Extracorporeal Assistance and Performance
Extracorporeal Therapies
Osteopathic
Other Procedures
Chiropractic
Presented by James Donaher, RHIA, CDIP, CCS, CCS-P
2:00 – 3:30                       Coding Roundtable on Surgical-Related Sections of ICD-10-PCS
Coordinated by Rachael D 'Andrea, RHIA, CDIP, CPHQ, CHTS-TR
We are offering 6 CEUS for this session.  Please bring your ICD-10-CM and PCS coding Manuals for our Coding Roundtable cases.
Members $60
Non Members $75
Students $20
For registration details please contact Tara Katynski, or 203-812-9783.
---

---
Information Governance – Do You Know Where Your Information Is?
June 15th 8:30-3p.m.
Middlesex Community College
Chapman Hall – Room 808
(click here for directions)
INFORMATION GOVERNANCE – DO YOU KNOW WHERE YOUR INFORMATION IS?
Keynote speaker: Cindy Zak, MS, RHIA, PMP Executive Director Corporate Business Service, Yale New Haven Health
Please attend this very relative discussion on how to participate or lead managing patient information in your organization. Learn practical steps to take and governance structures used by your colleagues.
Do you know about GDRP? And how this new regulatory initiative may affect your organization? Learn from our session given by our colleagues at Iron Mountain.
And do you know what Blockchain is? This emerging frontier may help solve some of the industry's interoperability challenges. Come learn from our guest expert.
We will have coffee/tea and lite refreshments for the morning, followed by our scheduled sessions with a break for a box lunch which is included in the registration.
5 ceus will be awarded for the full program
$60 Members/$75 non-members/$20 Students
We cross honor our 6 state colleagues at the member price
Agenda:
8:30-9:00 Registration coffee/tea lite fare sponsored by Iron Mountain
9:00-10:30 Iron Mountain presentation on Retention, Destruction and GDRP


Jason Rawn, Business Development Executive
10:30-11:15 Storage and retention best practice – practical applications –


Karen Lawler, RHIA,MPS,CHPS, FABC , Corporate HIM Director and Privacy Officer, Hospital for Special Care
11:15-11:30 break
11:30-12:30 Blockchain what it is and what you need to know –


RJ Herrick, Systems Architect, Guerilla Ontologist
RJ Herrick graduated UConn with degrees in Philosophy and Psychology before the allure of software development landed him in IT. As a 20 veteran of web development and security, his experience in keeping up with cutting edge data exchange systems laid the groundwork for his latest enthusiasm: the cryptocurrency ecosystem, and in particular, Ethereum smart contracts. As lead instructor for DappDevs, a blockchain developer community, he is working to accelerate exploration of the new opportunities afforded by blockchain technologies. When not at the keyboard, RJ enjoys working outside, discussing ethics, and practicing various circus arts. His pronouns are he/him/his.
12:30-1 Lunch (included)
1:00-2:30p.m. Information Governance – Yale's Journey


Cindy Zak, MS, RHIA, PMP Executive Director Corporate Business Service, Yale New Haven Health
Cindy is the Executive Director responsible for Corporate Health Information Management (HIM), at Yale New Haven Health in New Haven, CT. While at Yale New Haven, Cindy was responsible for the successful implementation of ICD-10, centralizing HIM across the System to New Haven and for developing and overseeing the Information Governance Program at Yale New Haven Health.
2:30-2:45p.m. wrap up and upcoming events – CTHIMA Board
For registration details please contact Tara Katynski, or 203-812-9783.
---
CtHIMA Annual Conference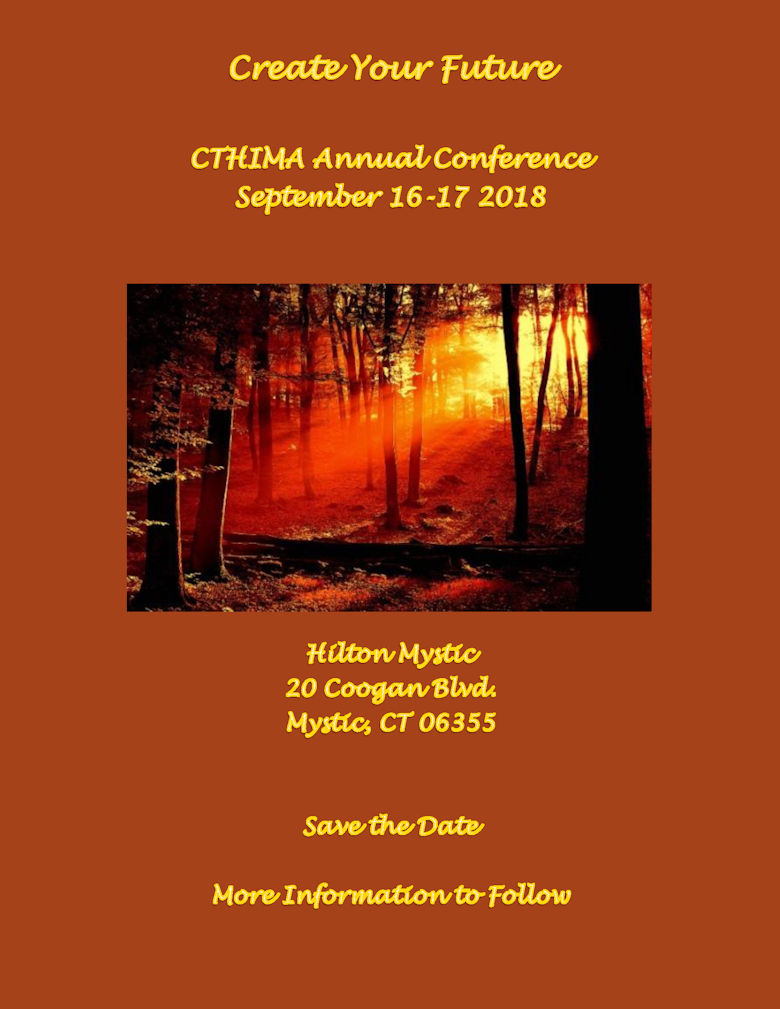 Message from the President
Dear members, and friends,
Please save the date September 16-17, 2018 for CTHIMA's annual meeting which will be held at the Hilton Mystic.
Registration and hotel reservation information will be posted soon.
To give a high level preview the following vendors and learning institutions will be at the meeting:
Chartwise
Middlesex Community College
MModal
Saince
MRS
Libman Education
Charter Oak
Vantage Point Healthcare
Baker Newman Noyes
3M
MRO
And we have an exciting line up of education planned as well as networking and door prizes:
Patient Engagement
Making the case for HIM professionals in home health, hospice, and long-term care
Nontraditional him job trends
ICD 10 coding updates and IPPS changes
NLP and documentation improvement
Recognizing opportunities for HIT innovation and managing risks
Medicare updates
Latest privacy updates impacting HIM
Actions by the Governor and General Assembly
Cybersecurity
Take Control of your HIM Career
Outpatient CDI
I hope to see you all there!
Best
Karen
---
MaHIMA 2018 Annual Conference
June 10-12th at Sea Crest Beach Hotel in Falmouth, Mass.
Registration is now open and MaHIMA will honor their member pricing for our members.
The agenda is full of educational opportunities covering topics such as Artificial Intelligence and Machine leaning, OCR Enforcement, Data Integrity and much more. Also check out our pre-conference agenda on the site. You can view the agenda and all the details, click here.
---
NHHIMA Annual Spring Meeting
The registration and agenda for the New Hampshire Health Information Management Association (NHHIMA) annual meeting has been posted!
---
2018 CtHIMA Nominations
CtHIMA 2018 Election is Scheduled for June 1st – 15th, 2018
Nominations are open from March 1st through April 30th, 2018
The Nomination Form is available here!
2018 Nominating Committee Members:
Liz Taylor
Emily Macko
Rachael D'Andrea
---
2018 CtHIMA Election Schedule
Announcing the CtHIMA 2018 Election dates
The election process is in full swing for the 2018 CtHIMA board.  We don't want you to miss any of these important dates; now is the time to consider becoming a part of the process — make your voices heard! Volunteer to be a part of the Nominating Committee or better yet — choose to run for one of the upcoming vacancies. We will be accepting nominations for the President-elect position and two (2) 1st year Director positions on the CtHIMA Board.
Volunteer today!

---
---
Education
OTHER EDUCATIONAL SESSIONS
(CTHIMA DOES NOT CONFER ENDORSEMENT OF ANY ORGANIZATION OR PROGRAM BY VIRTUE OF THIS LISTING.)
Ongoing Earn CEUs from BC Advantage
* Note: Portable Document Format [PDF] files are in Adobe Acrobat format, and you must have the Acrobat Reader to open them. To get a free copy of the Acrobat Reader, click the image below.